Good News Magazine 21/11/2013
David Jamilly talks to Good News Magazine, Sweden about kindness and Kindness UK. Please
contact us for an English translation of the article.
Click to view article
We have been encouraging schools nationwide to take part in Kindness Day UK. Here are some examples of schools who have celebrated the day:
Barton Seagrave Primary School, Northamptonshire


We are launching a fortnight of activities with assemblies on 4 November in both KS1 and KS2 promoting kindness. There will be an art competition: 'K.I.N.D.N.E.S.S...Find out what it means to me? with prizes for children from Reception Key Stage 1, Lower Key Stage 2 and Upper Key Stage 2. The winners will be announced on the 13th November. Each will have its own Kindness display and the Library Areas will have displays of historical figures who have demonstrated acts of kindness. Each year group will devote some Literacy time to Stories on Kindness and poetry. Every child will have a template of a leaf where they will be able to write an Act of Kindness that they have witnessed or carried out. These will then be attached to a Tree of Kindness. Each Year group will also have a 'Compliment and Thank you board' where every child will have an opportunity to express their gratitude towards each other. After International Kindness day we will have an assembly led by a member from the local salvation Army to encourage the children to bring in goods to create a Christmas hamper. This is the third year that we have carried out this Christmas appeal and it is hoped that the generosity will continue. Our school is about to undergo a lot of building work which will not be completed until March 2015. Between now and then certain designated areas will be Kindness zones. We are not sure where all these activities will take us, but we are excited and hopeful that each term some time will be devoted to celebrating kindness.


Barming Primary School, Kent is actively promoting and supporting kindness in school and the local community.

We have received a kindness pack and will use the specific ideas within our school as we have just restated our community code and have kindness as our first priority. We also have Peer Mediators trained to work with children on the playground, and have buddied Y6 Children with YR children to help them when they start school. We would like to be come affiliated and have a kind school certificate printed to help show our commitment to visitors/parents. I gave a 'kindness' assembly to the whole school on Monday and the challenge for Kindness Day is for all children to do an additional kind thing on the day either at home or school. On Thursday each child will record what they did in a kindness thought bubble. A selection of these will then be displayed in school. We involved the children in Kindness Day and asked them all to try and do an additional kind thing at home or school on the day, following an assembly I ran. Attached are photos of the display I did of some of their kindness thought bubbles, explaining what they did. It was a very successful day and provoked some good discussion about kindness – I followed up a week later with an assembly about the 'Random Acts of Kindness' campaign that Danny Wallace ran. Many thanks for the certificate. I showed the children in assembly and explained why they deserve to have it. It's now proudly on display right where parents and visitors can see it in our entrance area.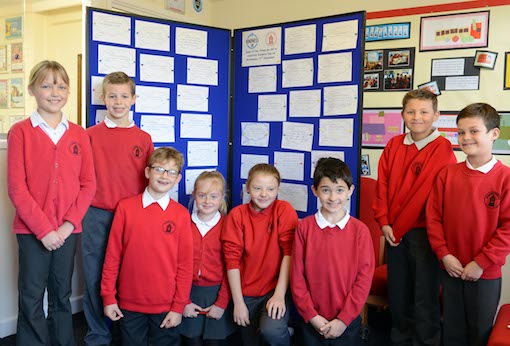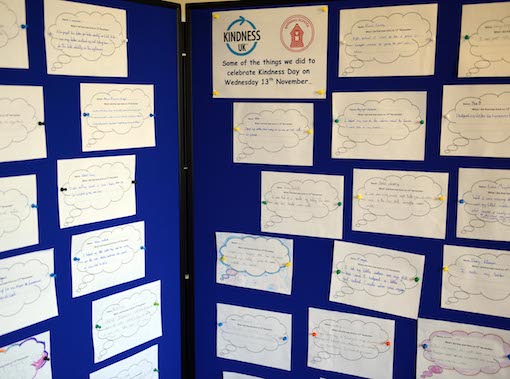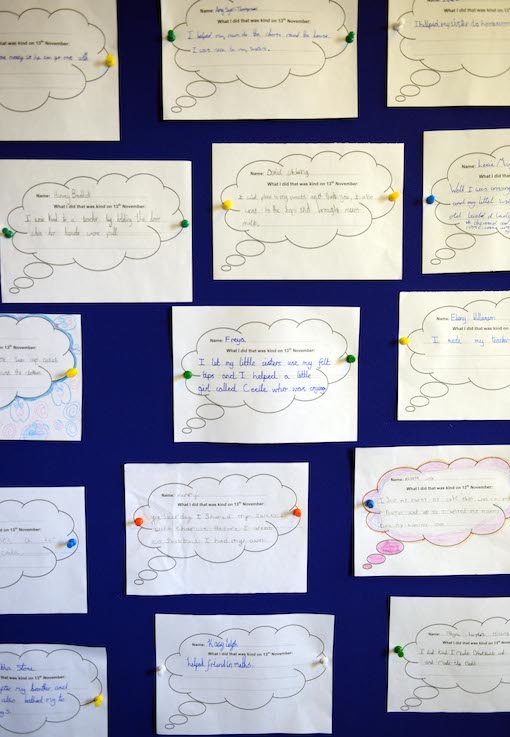 Gotherington Primary School celebrated Kindness Day

Many schools across the country now celebrate Kindness Day UK annually. Gotherington Primary School in Gloucestershire is just one example of schools being kind 13th November 2013.
Click here to read the full article